Directions to the Theatre and our offsite location
Conservatory Directions
Juno Beach Location
As we continue our efforts to complete a state-of-the-art Conservatory at the Maltz Jupiter Theatre, most after-school classes will be held at our off-site suite in the Plaza La Mer Shopping Center in Juno Beach, FL located at:
839 Donald Ross Road, Juno Beach, Florida 33408.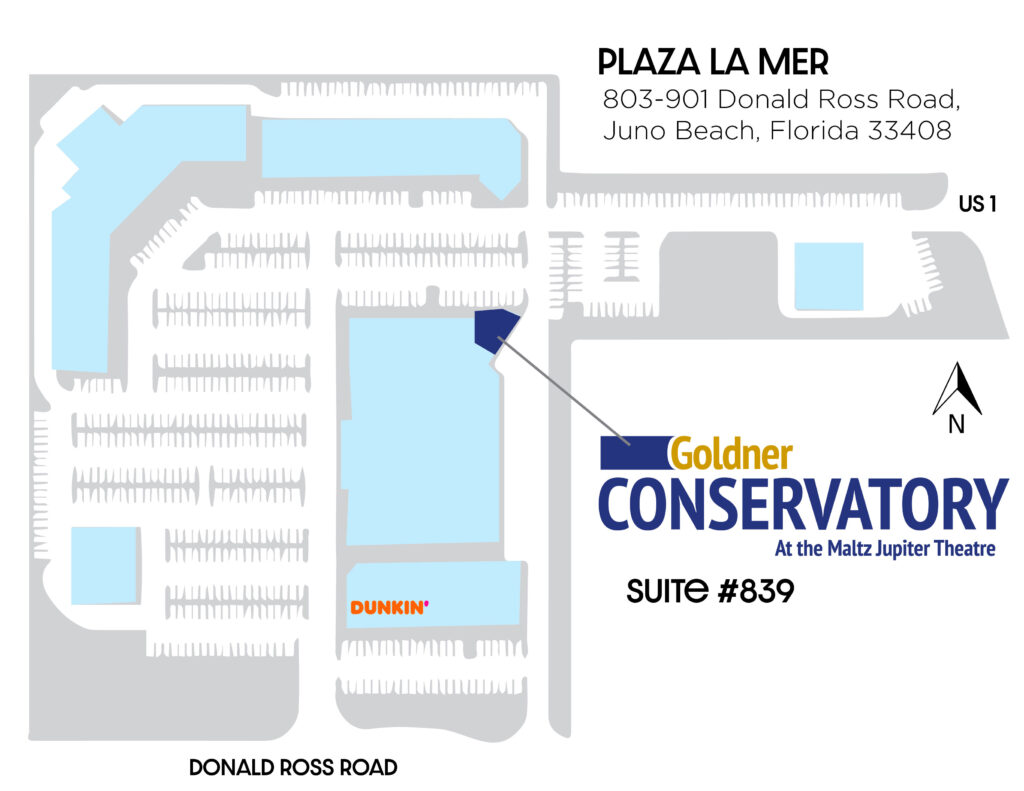 HOW DO I GET TO THE PLAZA LA MER SHOPPING CENTER?  
FROM I-95: Take the I-95 N ramp to W Palm Beach and exit at Donald Ross Road.  Keep right at the fork and follow the signs for Roger Dean Stadium.  Merge onto Donald Ross Road for 4.2 miles and turn left into the Plaza La Mer Shopping Center.  Go straight thru the parking lot, passing Dunkin Donuts and then turn right.  The Conservatory is in the end unit on the right (Suite #839).
FROM INDIANTOWN RD:  From FL-706 E/W Indiantown Rd, turn right onto US-1 S. Travel 3.8 miles and turn right into Plaza La Mer Shopping Center.  The Conservatory will be on your left, Suite #839.
WHERE DO I PARK?  
There is plenty of on-site parking at Plaza La Mer, so you may park in any spot as long as it is not designated for another business.
WHERE DO I DROP OFF AND PICK UP MY CHILD BEFORE AND AFTER CLASS?  
Plaza La Mer is a busy shopping area, so for the safety of all of our students, we ask that parents accompany their child into the studio to sign in upon arrival and come into the studio to sign out and secure them as they exit. Please do not drop your child off at the curb or park and allow your child to walk or run across the parking lot by themselves.
---
ALL SCHOOLS OUT DAY CAMPS WILL BE HELD AT THE MALTZ JUPITER THEATRE UNLESS SPECIFIED OTHERWISE.
1001 East Indiantown Road
Jupiter, FL
33477